Well, what can I say, it's been about 7 weeks since my last entry so I've got some catching up to do. Since then I've been on holiday to North Wales and was extremely lucky to get one week of good weather, I've bought some more new gear in the shape of a Roland SH-101, I've been learning to use this and the Prophecy and working on integrating them into my current set-up. I've arranged another
Awakenings
gig, this time I'm performing with a friend by the name of Steve Humphries who is also known as
Create
. Check out his music, it's excellent.
The gig is on
Sunday 7th November at Peggers in Nottingham.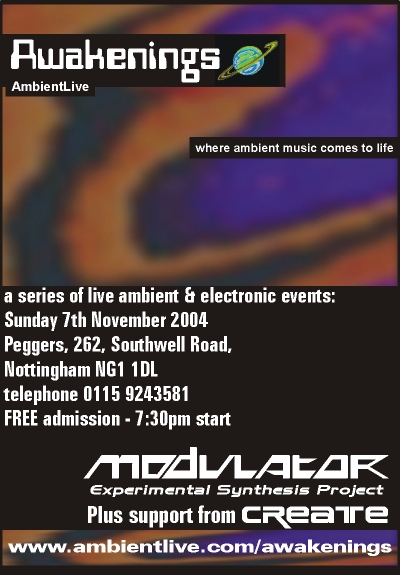 I've been to see quite a few gigs recently including Rush, David Wright & Bekki Williams and Magnum. In fact at the David Wright gig I actually had a chap come up to me to buy some of my cds, so if you're out there Dennis, thanks, it made my day :-)
I've also got a few good gigs lined up, including the mighty Redshift at
E-Live
in Holland,
Hampshire Jam 3
(Arc, Airsculpture, Free System Projekt and Keller & Schonwalder).
Currently I'm very busy practicing for my next
gig
which is imminent and have decided to break with my usual practice of preparing the majority of my sequences in advance. For this gig and from now on if it is a success I'm going to use my Doepfer Regelwerk to create and edit new sequences as I play, so expanding the improvisational aspect of my performances. At home, in the studio I have found this very inspirational, but it might not work out as well on stage. Fingers crossed :-)
The Leeds series of
Awakenings
gigs have been expanded and I'm now playing next December on the same bill as the amazing Airsculpture.
I've also been busy writing new music and will probably be posting some after the gig. I might even have some more live stuff to put online if all goes well.